2. Aardvark
Year: 1994
Musical project, mainly influenced by the music listened to privately and in clubs - mostly industrial / experimental and ritual (e.g. SPK, Blackhouse, Test Department or Esplendor Geometrico). The result was a tape with six tracks called Arcane Technology. Roughly 15 pieces were produced. Each sported an individual handmade cover (mainly utilizing images clipped from Spiegel magazine). In order not to waste the B side of the tape, it contained all songs again, only backwards. The product was mostly bought by friends and acquaintances.
This project was only possible with the help of kybernaut (then called Beltaine, see below), who provided all the necessary equipment.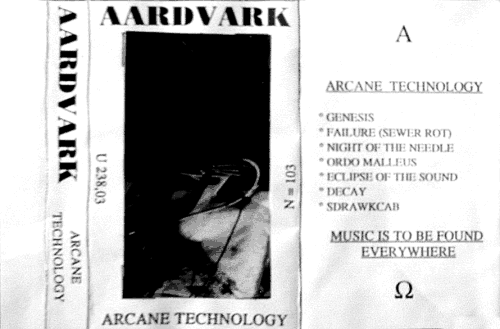 Aardvark - Arcane Technology
Recorded between 03.08.1994 and 22.08.1994

GENESIS [04:05] - DOWNLOAD (Sample, MP3, 274 KB)
NIGHT OF THE NEEDLE [06:22]
ORDO MALLEUS [03:49] - DOWNLOAD (Sample, MP3, 316 KB)>
contains samples from Hardware and Day of the Dead
ECLIPSE OF THE SOUND [08:05] - DOWNLOAD (Sample, MP3, 238 KB)
DECAY [03:22]
SDRAWKCAB [30:26]
[Top of page]
3. Beltaine
Year: 1994
Beltaine is an earlier musical incarnation of kybernaut. In 1994, the idea for a live concert was developed. Electronic sounds played from tape were supplemented with electric guitar (J.H. a.k.a. kybernaut), vocals (kybernaut, Robert) and metal percussion (T.J. a.k.a. LDX#40). In addition to that, the stage was dominated by four TV sets, which almost completely blocked the view on the musicians. On those, a video (compiled by kybernaut and LDX#40) was shown, which consisted of self-made video feedbacks and clips from favourite movies.
[Top of page]